This shop has been compensated by Collective Bias, Inc. and its advertiser. All opinions are mine alone. #SkinEssentials #CollectiveBias
Like most people these days, I do my beauty product shopping at Target. The bright, fully stocked aisles are exactly what I need to find what I'm looking for. Of course I travel down my favorite one, the skincare aisle to pick up one of my most trusted brands.
One of the brands I trust the most with my skin is Neutrogena®. Break-outs are bound to happen when we're stressed or not eating healthy but my trusted Neutrogena® products help get my skin back on track. I didn't start breaking out until later in high school and throughout college. This is a time in our lives where appearance means a lot to us so not feeling comfortable in my own skin was a big issue. I remember every year before going back to Denver in the fall to start another year of class, I would try cleanses, face masks, and special DIY products to see if I could find some miracle product that would clear up my skin. Guess what….none of it worked. The trick that worked for me was going back to the basics with the most trusted skin care brands. They're the most trusted brands for a reason, right??
I use the Neutrogena® SkinClearing Liquid Makeup to give my face a clean look without causing any more breakouts. I also try to go makeup free as much as possible to avoid clogging up my pores and creating even more acne. Makeup free Sunday's should be a thing for everyone to give your skin a break from heavy products! This liquid makeup is packed with ingredients that won't only treat current breakouts, but also prevent future ones. This powerful little bottle came in handy so many times in college when late night study sessions filled with junk food turned into even more breakouts. Pro tip:
How to stay blemish free during stressful times at school
Suffering from a few un-wanted spots during finals, mid-terms, or just a stressful week at school? This little bottle is perfect to throw in your purse and take on the go. Being self conscious about acne on your fave is the WORST feeling…trust me, I get it. No need to carry special brushes or application tools, just the bottle and you're set for a day full of classes and a night packed with social events. Some other changes that really helped me through these times have been to get more sleep, eat healthier and wash my face every night before bed.
Sleep when you need it
I believe a person's greatest talent is to recognize when they need more sleep. I sure know when I do! I'll start to notice my brain fogging up, not being satisfied with anything I eat or my face breaking out more than usual. Something that almost always helps me with these issues is hitting my pillow and getting a few solid nights of sleep in a row. The biggest tip I can give you to ensure you can grab a few extra hours of sleep at night is to PLAN. Plan out your days strictly so you can accomplish the days tasks in time to call it a night. Before calling it a night, take a long, relaxing shower with Neutrogena® Body Clear® Body Wash – Pink Grapefruit & Clean & Clear® Deep Action Exfoliating Scrub . I don't know about you, but I ALWAYS sleep better once I've showered.
Take a break & do something FUN
Sometimes getting our mind completely off the long college to-do list will do wonders for our health. Being involved in multiple clubs, taking classes seriously and preparing for life after school can be a lot to handle. Have some FUN! You'll automatically become less stressed and more opt to get back to the daily grind when needed. I mean, it's college. We all gotta have a little fun, right?! Go out to dinner with some girlfriends, hit the mall, or grab coffee with a friend you've lost touch with. Any of these can get your mind off of what's giving you stress so you can enjoy being at this time in your life!
The Neutrogena® Body Clear® Body Wash – Pink Grapefruit & Clean & Clear® Deep Action Exfoliating Scrub make me so comfortable in my own skin. They know that breakouts don't have to stop at your face…sometimes they're even worse on the rest of your body. The Clean & Clear® Deep Action Exfoliating Scrub goes deep down to gently exfoliate the surface skin and the Body Wash is packed with the ingredients that help treat and prevent future acne on your skin. The pink grapefruit smells AMAZING!
P.S. Hover over the image below for direct links to the products I use. If you're shopping at Target, you can grab a $5 gift card if you buy 3 Neutrogena® facial skincare products, buy one Clean & Clear® product, get one 25% off, or stop in this weekend, Thursday-Sunday, and get 20% off any Neutrogena® cosmetics product. Want to save more? Download the Cartwheel app and save 20% on Neutrogena® cosmetics every weekend in August, Thursday-Sunday.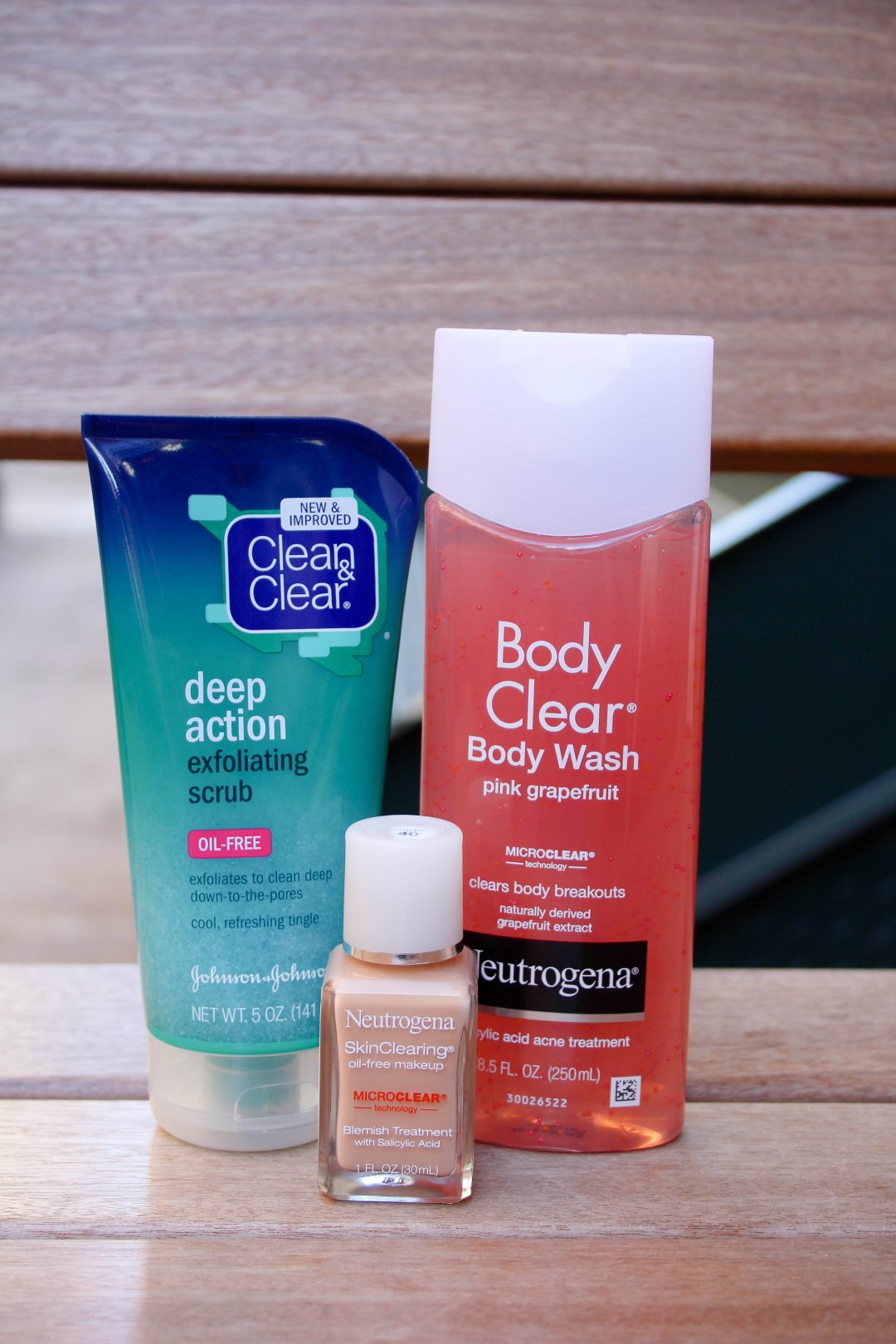 Neutrogena® & Clean & Clear® know that breakouts go way beyond your teens and 20-something years. That's why I continue to use their trusted products today. From body wash, to facial cleansers and makeup, I know they'll always have me covered.
This post is sponsored by CLEAN & CLEAR® and NEUTROGENA®. I only recommend products I use personally and believe my followers will also enjoy! Some of the products mentioned were provided by CLEAN & CLEAR® and NEUTROGENA® for this review.